A J Immigration Services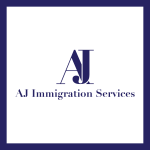 Advice and Services provider offering complete solutions in all areas of UK Immigration, Nationality and European Laws.
Our services include:
1. The Points Based System is a relatively new and constantly changing area of law, and is notorious for its complexity.
This system was introduced in 2008 and 2009 and is a 5 Tier visa system.
TIER 1
Investor, Entrepreneur, Graduate Entrepreneur, Exceptional Talent, General (now closed to new applicants) and Post-Study Work (now closed to new applicants)
TIER 2
Primarily for 'skilled workers' outside the EU who have been further split into four categories, Tier 2 (General), Intra-company transfers which could apply to you if you are employed by a multi-national company outside the UK which has a UK branch, Sportspersons or Ministers of Religion.
TIER 3
Originally designed for low-skilled workers when filling temporary labour shortages. This tier has never been operational.
TIER 4
For adult and child students wishing to pursue an education in UK in licensed institutions.
TIER 5
Consists of Tier 5 (Youth Mobility) and Tier 5 (Temporary Workers)
2. FAMILY AND PRIVATE LIFE APPLICATIONS UNDER IMMIGRATION RULE
Fiancé(e) Visa or Prospective Marriage Visa
Civil Partner Visa or Same Sex Visa
Spouse Visa or Marriage Visa
Unmarried Partner Visa
Child of parent(s) in the UK
Sole responsibility applications for children abroad wishing to join their parents/relatives in the UK
Adult Dependent Relative Visa
UK Ancestry Visa
3. EU Law
Retained rights of residence
Derivative rights of residence - primary carer/guardian of a British child
Residence Card Applications for family members
Residence card applications for extended family members
Family Permit Applications
Applications for Croatian Nationals.
Permanent residence application
Surinder Singh' Route (family members of a British Citizen)
4. HUMAN RIGHTS APPLICATION IN THE UK
Leave to remain in the UK outside the Immigration Rules Visa
Discretionary Leave to Remain Visa
Family and Private Life Visa
5. VISITOR VISAS UK
General Visitor Visa
Family Visitor Visa
Child Visitor Visa
Business Visitor Visa
Entertainer Visitor
Prospective Entrepreneur Visa (PEV)
Sports Visitor Visa
Marriage/Civil Partnership Visitor Visa
Private Medical Treatment Visitor Visa
6. British citizenship
Naturalisation- based on residence in the UK
Naturalisation – spouses of British Citizens
Registration as British citizen – children
7. Asylum, Human Rights, Appeals, Detention
Applying for asylum
Unaccompanied Minors
Appeals
Advocacy / Upper Tribunal
Judicial Review
Reuniting refugees with their family members
Applying for bail (immigration detention)
Detained asylum seekers
Unlawful detention – Immigration – Claim for Damages
Administrative Review
Removals
Bail
Contact Information
Maylands Business Centre
Redbourn Road


Hemel Hempstead

,

Hertfordshire

HP2 7ES

United Kingdom

Telephone:

0333 322 3933

Fax:

02038629910

Website: A J Immigration Services

Social Media Links:

Office Hours:

Monday 09:00 - 18:00


Tuesday 09:00 - 18:00


Wednesday 09:00 - 18:00


Thursday 09:00 - 18:00


Friday 09:00 - 18:00


Saturday 09:00 - 18:00

Selection of Featured Listings